Seven selected for Rajasthan Ratna Award 2013
Jaipur: Jaipur foot patron Dr D R Mehta and veteran commentator Jasdev Singh are among seven persons who have been selected by the state government for Rajasthan Ratna Award 2013.Founder of Bhagwan Mahaveer Viklang Sahayata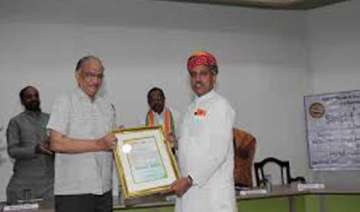 PTI
August 16, 2013 7:05 IST
Jaipur
: Jaipur foot patron Dr D R Mehta and veteran commentator Jasdev Singh are among seven persons who have been selected by the state government for Rajasthan Ratna Award 2013.
Founder of Bhagwan Mahaveer Viklang Sahayata Samiti Dr D R Mehta (social service), Jasdev Singh (commentary), Pandit Ramnarayan (Sarangi player), late Nagendra Singh (law), late Kailash Sankhla (environment protection), late Hasrat Jaipuri (Art and Culture) and late Gavri Devi (Maand singer) have been
selected for the award.
Chief Minister Ashok Gehlot made the announcement at a function at Ravindra Manch here.
The Jaipur Foot is a rubber-based prosthetic leg for people with below-knee amputations. From next year, names of the awardees will be finalised by a committee headed by Justice Dalveer Bhandar, judge in the international court of justice to finalise names of awardees in which chief minister, art and culture minister will be members.
The awardees are given Rs 1 lakh in cash, a shawl and citation by the state governor.