SFI retains Himachal university, NSUI fares well in colleges
Shimla: The Students Federation of India (SFI) retained its hold over Himachal University campus in the elections to Students Central Associations of HPU and 100 odd affiliated colleges held yesterday.SFI also made inroads in colleges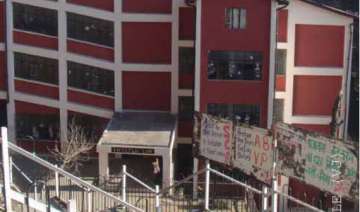 PTI
August 18, 2013 10:22 IST
Shimla
: The Students Federation of India (SFI) retained its hold over Himachal University campus in the elections to Students Central Associations of HPU and 100 odd affiliated colleges held yesterday.
SFI also made inroads in colleges of Hamirpur district, once a stronghold of BJP.
SFI candidates Rajan Hartta, Piyush Sewal and Monica Dhadda were elected President, General secretary and Joint secretary defeating the ABVP rivals by comfortable margin in HPU campus polls, but its candidate for the post of Vice president Gopal Singh scraped through with paper thin margin of five votes.
The National Student Union of India (NSUI) made impressive gains in Kangra district by winning SCA elections in majority of the major colleges including HPU Regional Center at Dharamshala.
Out of the total 20 colleges where elections were held, NSUI made clean sweep in eleven colleges while Akhil Bhartiya Vidyarthi Parishad (ABVP) could manage to hold only seven colleges. SFI had to content with just four posts.
There are total 23 affiliated colleges in the district but elections were not held in three colleges.
NSUI candidates swept the polls in Government Colleges at Shahpur, Nagrota Bagwan, Thural, Naura, Jawalamukhi, Jaisinghpur, DAV College Kangra, Pandit Anant Ram Memorial College Baba Badoh, SD College Rajpura, Chandardhar Sharma Government College Haripur and HPU Regional Centre at Dharamsala.
The SFI made inroads in Hamirpur district, stronghold of BJP, winning 14 posts while ABVP could win only eight posts.
Similarly, in the Shimla district, NSUI was at the top in SCA elections to colleges, winning 32 seats while SFI and ABVP could win 12 and 18 seats respectively.
NSUI made a clean sweep in Sanjauli Degree College, while SFI swept the polls in Rajkiya Kanya Mahavidalya (RKMV) and HPU Evening College and ABVP won in Kotshera College.
In Sirmaur district, ABVP made a clean sweep in Sanskrit College and Government College Sangrah, NSUI won all for posts in Government College Shillai while major contenders SFI, NSUI and ABVP shared seats in five other colleges.
ABVP and NSUI won eleven seats while the SFI bagged six posts.
In Una district NSUI also dominated the SCA results by winning in all colleges except Bangana Degree College.
In Bilaspur, ABVP was victorious in most of the colleges while NSUI and SFI were far behind.