Sharif writes letter of felicitation to Modi, talks of forging œfriendly and cooperative relationship
New Delhi: On 66th Republic Day of India, while Prime Minister Narendra Modi was busy attending his esteemed guest US President Barack Obama as the chief guest; he received a congratulatory note from his Pakistani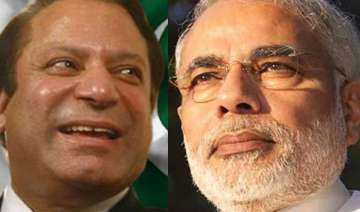 India TV News Desk
January 27, 2015 13:05 IST
New Delhi: On 66th Republic Day of India, while Prime Minister Narendra Modi was busy attending his esteemed guest US President Barack Obama as the chief guest; he received a congratulatory note from his Pakistani counterpart Nawaz Sharif too.
The letter which extended greetings for Republic Day, also talked about forging "friendly and cooperative" relations between the two neighboring countries.
The letter which has come just weeks after heavy cross-border firing, felicitated Modi and people of India on their 66th Republic Day.
It read-
"Excellency,
On behalf of the people and Government of Pakistan, and on my behalf, I would like to convey our warm felicitations to you, your Government, and the people of India, on the happy occasion of India's 66th Republic Day.
In wishing the people of India progress and prosperity, it is our sincere wish to forge friendly and cooperative relations between our two countries. Pakistan remains committed to developing friendly relations with India on the basis of sovereign equality, mutual respect and commonality of interests. We believe that our two Governments can work together towards the development of our countries, the well-being of our peoples, and achieving our common goal of peaceful and prosperous South Asia.
I avail myself of this opportunity to convey my best wishes to you, and for the happiness and prosperity of India.
                                                                                                      (Muhammad Nawaz Sharif)                                                                      Prime Minister of the Islamic Republic of Pakistan
His Excellency,
Mr. Narendra Modi,
Prime Minister of the Republic of India.
New Delhi"
Reportedly, the beginning of the year has witnessed an increase in the number of border violations with two soldiers being killed in a heavy cross-border firing.