Shiv Sena spokesman Rahul Narvekar joins NCP
Mumbai: Sulking Shiv Sena spokesman Rahul Narvekar, who recently withdrew his candidature from Maharashtra Legislative Council elections, today joined NCP and will contest the Lok Sabha polls on the party's ticket from the Maval constituency.Narvekar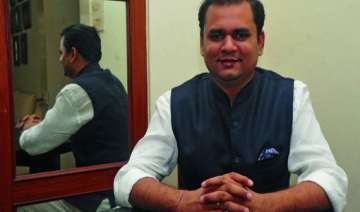 PTI
March 17, 2014 22:44 IST
Mumbai:
Sulking Shiv Sena spokesman Rahul Narvekar, who recently withdrew his candidature from Maharashtra Legislative Council elections, today joined NCP and will contest the Lok Sabha polls on the party's ticket from the Maval constituency.
Narvekar said he left the Sena due to internal politics.
"I am not happy in breaking the 'Shiv Bandhan' (a special saffron thread tied on the wrists of Sainiks). But I feel that I should have tied it after proper thought," Narvekar told reporters.
According to him, he had no choice but to quit the Sena because he was falling prey to internal politics.
Narvekar said he withdrew his candidature in the Legislative Council elections after being told by the party leadership to avoid "horse-trading".