Shoe Thrown At Rahul Was Because Of His Karma, Swami Ramdev Tells Aap Ki Adalat
New  Delhi, Jan 28: Yoga guru Swami Ramdev today said black flags being shown or shoes being thrown at  leaders like Rahul Gandhi were because of their karma (work). 'I never asked anybody to throw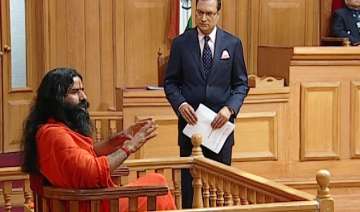 PTI
January 28, 2012 21:33 IST
New  Delhi, Jan 28: Yoga guru Swami Ramdev today said black flags being shown or shoes being thrown at  leaders like Rahul Gandhi were because of their karma (work).

'I never asked anybody to throw shoes. What can I do if somebody throws shoes at politicians like Rahul because of their karma (work)? Yet I feel proud that the whole country except a few people are with my movement', said Ramdev.

He however appealed to his supporters not to throw shoes at any body nor show black flags.

Replying to questions in Rajat Sharma's Aap Ki Adalat today, Ramdev asked his supporters to express their dissent democratically through vote.

The yoga guru denied that he was acting as the "mask" for BJP or RSS.

He said: "Neither the RSS is manipulating me, nor am I using  the RSS. In fact,  I am using 121 crore Indians to bring back the ill-gotten black money to this country."

On Congress leader Digvijay Singh's charge that the ink-throwing incident on the yoga guru was stage-managed to bring about communal discord, Ramdev said, 'I don't want to comment on certain people, whose character is unworthy of comment. I will spoil my tongue if I comment on such people.'

Ramdev reiterated that he had no political ambitions but he felt it was his duty to the nation to raise issues of public importance, like black money.

Ramdev said, right from Lord Hanuman, Prophet Mohammed to Mahatma Gandhi,  everyone performed one's duty to mankind along with spirituality and he was also trying to do the same.

On being asked why the government thought he was a threat to peace, Ramdev laughed and replied: "Does the government think that a yoga guru is a threat to peace, and Afzal Guru was not a threat to India's security?"

Ramdev said, government has to take the issue of nearly Rs 400 lakh crore black money stashed outside the country seriously and bring it back.

He also alleged that the UPA government was misleading the people on the issue of Jan Lokpal Bill.

Ramdev said he would continue to tour the five poll-bound states and campaign against those parties and candidates who refused to support his movement against black money.

"I will fight corruption till my last breath. I request the President to set up a committee to probe all charges levelled against me and my institutions", said Ramdev.

The yoga guru defended his aide Acharya Balakrishna saying: "He is not my weak link but my strength. He gives guidance to crores of people in Ayurveda and his contribution to Ayurveda is immense. Mere levelling of charges against him will not make him a criminal."

Swami Ramdev in Rajat Sharma's talk show Aap Ki Adalat will be telecast on India TV on Saturday Jan 28 at 10 pm and on Sunday Jan 29 at 10 am and 10 pm.