Siachen braveheart Lance Naik Hanamanthappa condition deteriorates
New Delhi: The condition of Lance Naik Hanamanthappa Koppad, who was miraculously found alive after remaining buried in snow for six days following the avalanche in Siachen, remains critical.More than a day after the soldier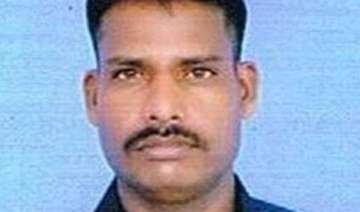 India TV News Desk
February 11, 2016 13:33 IST
New Delhi: The condition of Lance Naik Hanamanthappa Koppad, who was miraculously found alive after remaining buried in snow for six days following the avalanche in Siachen, remains critical.
More than a day after the soldier was admitted here, the Army Research and Referral Hospital said in the evening that his condition had worsened 'despite aggressive therapy and supportive care'.
"He continues to remain extremely critical with evidence of oxygen deprivation to the brain on CT scan. There is evidence of pneumonia in both lungs," a medical bulletin said on Wednesday. "His multi-organ dysfunction state continues unabated. His condition has deteriorated despite aggressive therapy and supportive care."
Koppad is on ventilator in the ICU at the hospital, where he was admitted on Tuesday. An earlier bulletin said the soldier "continues to battle the odds".
"... his medical condition remains very critical... The medical team ... is treating him with best expertise and resources available in the world," the medical bulletin said.
Family members, including wife Mahadevi and two-year-old daughter Netra, were in the hospital campus, praying for his recovery -- like millions all over the country.
Doctors treating the soldier, whose survival is being seen as a miracle, include top critical care specialists, head of the department of medicine, senior nephrologists and neurologists from the army hospital as well as the All India Institute of Medical Sciences.
Asked how he survived the hostile weather for six long days, a doctor from the army hospital said they have no account of what exactly happened.
"Only when Lance Naik Koppad gains consciousness, will we be able to get an account of how he managed to survive," the doctor said.
UP woman offers to donate her kidney
Many offered to donate body organs to help Koppad survive.
In Uttar Pradesh, a housewife from Lakhimpur Kheri, 167 km from Lucknow, contacted a local news channel and sought to know how she can contact the hospital to donate a kidney to Koppad.
A former sailor, SS Raju, also expressed willingness to donate any organ of his body to save "fellow brother" Koppad.
Bollywood celebrities including Amitabh Bachchan, Aamir Khan, Shatrughan Sinha, Anupam Kher, Shekhar Kapur and Sunny Deol as well as cricketer Sachin Tendular said they were praying for his recovery.
A special prayer was conducted on Tuesday evening at Ganga Ghat in Varanasi in Uttar Pradesh. The famed Dabbawallas in Mumbai offered prayers for the soldier.
Koppad and the other soldiers were hit by the avalanche at an altitude of around 20,500 feet. He was found miraculously alive just when the rescuers were beginning to lose hope. The soldier was found conscious but drowsy and disoriented. He was also severely dehydrated and in shock. He had pneumonia and was suffering from liver and kidney dysfunction. But there was no cold exposure related frost bite or bone injuries.
Prime Minister Narendra Modi went to the hospital after he was brought to Delhi on Tuesday. So did Defence Minister Manohar Parrikar.
On Wednesday, Congress president Sonia Gandhi wrote to Koppad's mother Basavva and wished him speedy recovery and a long life.
Koppad has served in difficult and challenging areas for 10 out of 13 years of his total service.
His postings include Mahore in Jammu and Kashmir from 2003 to 2006, where he was actively involved in counter-insurgency operations.
He again volunteered to serve with the 54 Rashtriya Rifles (Madras) in Jammu and Kashmir from 2008 to 2010, and later in the northeast from 2010 to 2012 where he took part in operations against the NDFB and ULFA.
He was serving in the high-altitude areas of Siachen glacier from August 2015.