Sibal Accuses SAD, BJP Of 'Double Standards' On Lokpal Issue
Jalandhar, Jan 29 : Criticising Shiromani Akali Dal and BJP for their resistance to the Lokpal bill at the Centre, Union HRD Minister Kapil Sibal said that the parties were adopting "double standards" on the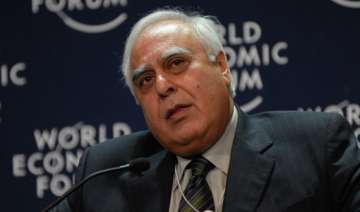 India TV News Desk
January 29, 2012 8:13 IST
Jalandhar, Jan 29 : Criticising Shiromani Akali Dal and BJP for their resistance to the Lokpal bill at the Centre, Union HRD Minister Kapil Sibal said that the parties were adopting "double standards" on the issue.

"The parties (SAD and BJP) are adopting double standards when it comes to the Lokpal bill. They oppose the bill at the centre, but in their state, the Lokayukta is appointed by the Chief Minister," Sibal said told reporters at a press conference here.

He alleged that the Lokayukta in the state was weak.  "The Lokayukta here is weak as it does not have powers to take suo motu cognisance of corruption or other powers.

BJP supports a weak Lokayukta here and opposes a strong Lokpal bill at the centre," Sibal said.

He also said that the state government had not used funds sanctioned by the Centre for various schemes.  Out of 2,400 crore given to Punjab, only 912 crore was used, he claimed.

He said that sports industries were leaving the state and shifting to Jammu and Kashmir due to the policies of the state government.

The future of poor children is in the dark as education has been highly privatised, Sibal said, alleging that 'mafia-raj' is prevailing in Punjab.