Sibal meets President, PM ahead of tomorrow's Cabinet meet
New Delhi: Ahead of the Union Cabinet meeting to possibly consider certain ordinances, Law Minister Kapil Sibal today met President Pranab Mukherjee and Prime Minister Manmohan Singh, apparently to discuss the issue.Sibal's meeting with Mukherjee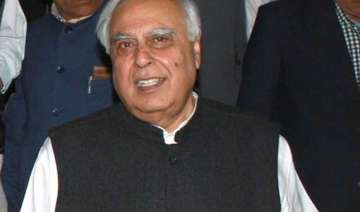 India TV News Desk
March 01, 2014 22:45 IST
New Delhi:
Ahead of the Union Cabinet meeting to possibly consider certain ordinances, Law Minister Kapil Sibal today met President Pranab Mukherjee and Prime Minister Manmohan Singh, apparently to discuss the issue.
Sibal's meeting with Mukherjee assumes significance as the government was appearing to having second thoughts on the ordinances as it was not sure whether the President would give his nod to these.
These ordinances, including the ones being pushed by Rahul Gandhi, were on the agenda of the Cabinet meeting yesterday but were deferred.
The ordinances were on Prevention of Corruption (Amendment) Bill and Right of Citizens for Time-Bound Delivery of Goods and Services and Redressal of their Grievances Bill - both dealing with corruption.
These are among the anti-corruption bills being pushed by Rahul Gandhi to create a "framework" to fight graft.
Along with these, the SC/ST (Prevention of Atrocities) Amendment Bill, Rights of Persons with Disability Bill, Security Laws (Amendment) Bill and Delhi High Court Act (Amendment) Bill were also on the agenda.
These proposed legislations could not be passed during the extended Winter Session of Parliament due to disturbances.
The Cabinet will meet again tomorrow to make another attempt to consider these ordinances.