Sindhurakshak: No indication of sabotage, says Navy, as five bodies recovered so far
New Delhi/Mumbai: The Indian Navy  has  said it has been getting Intelligence warnings of terror threats to its assets in Mumbai but there has been no indication so far of sabotage being a reason behind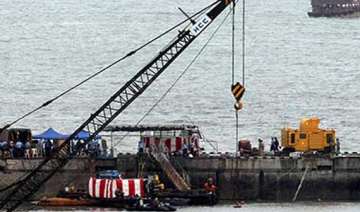 India TV News Desk
August 17, 2013 8:49 IST
New Delhi/Mumbai:
The Indian Navy  has  said it has been getting Intelligence warnings of terror threats to its assets in Mumbai but there has been no indication so far of sabotage being a reason behind submarine INS Sindhurakshak explosion.
The intelligence agencies have been providing us these inputs about terror threats to the naval assets in Mumbai but there are no indicators of any sabotage so far, Navy sources said here.
They said causing an explosion of such high magnitude externally and causing damage to the vessel was highly unlikely.