Slight fall in mercury; fog delays over 40 trains
New Delhi: Mercury dipped slightly in the national capital today with fog continuing to disrupt rail traffic, delaying over 40 north-bound trains.  "Light fog condition prevailed in the morning and the minimum temperature was recorded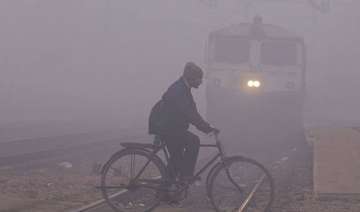 PTI
January 04, 2015 13:40 IST
New Delhi: Mercury dipped slightly in the national capital today with fog continuing to disrupt rail traffic, delaying over 40 north-bound trains.  "Light fog condition prevailed in the morning and the minimum temperature was recorded at 12 degrees Celsius, five notches above normal," a MeT official said.  
The minimum temperature yesterday was registered at 13.8 degrees Celsius while the maximum was at 16.8 degrees Celsius.  Fog also delayed several trains traveling northward, Railways officials said.
Departure time of four trains including N E Express and G T Express have been delayed. Six trains including Jansadharan Express, Saptakranti Express and Brahmaputra Mail were cancelled, they said.
On account of foggy condition in the North-East region, Railways have already announced cancellation of 15 trains including Dibrugarh-Rajdhani, Ludhiana Shatabadi, Garhwal Express and Mahanada Express, till February 16.  
MeT officials said that later in the day, the condition would change from partly cloudy sky to mildly cloudy sky.  "Traces of rain were recorded in the morning and humidity stood at 91 per cent," the official said.  
Moderate to dense fog is forecast for tomorrow with minimum and maximum temperature expected to be around 18 degrees Celsius and 10 degrees Celsius respectively, he added.