Smriti Irani may scrap Delhi University's 4-year UG course
New Delhi: Delhi University's four year undergraduate programme is all set to go. Highly-placed sources said the HRD ministry has come to this conclusion even though DU vice-chancellor Dinesh Singh on Monday made a desperate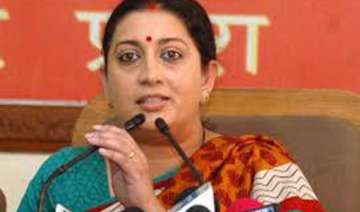 India TV News Desk
June 05, 2014 11:11 IST
New Delhi:
Delhi University's four year undergraduate programme is all set to go.
Highly-placed sources said the HRD ministry has come to this conclusion even though DU vice-chancellor Dinesh Singh on Monday made a desperate attempt to convince education secretary Ashok Thakur about the effectiveness of four year undergraduate programme and its long-term implications.
A delegation of teachers and students from the Delhi University had met Irani last week and had submitted a memorandum urging her to scrap the four-year undergraduate programme and sack DU Vice Chancellor Dinesh Singh.
Irani had told the delegation that she understood their concern, the urgency to roll back the programme and that her party would stick to its commitment spelled out in its manifesto, said a delegation member.
Delhi University upgraded its three-year undergraduate programme to four years from the 2013 academic session.
The brainchild of Dinesh Singh, the move had drawn flak from the teachers fraternity and students.