Sonia Asks Punjab Congressmen To Stand United
Moga (Punjab), Jan 19: Congress President Sonia Gandhi today assured party workers in Punjab that the entire senior leadership was with them and asked them to stand firm and united.In a message read out at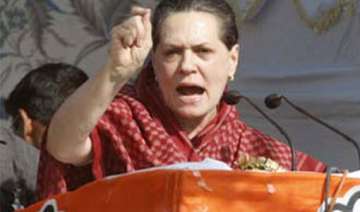 PTI
January 19, 2012 18:18 IST
Moga (Punjab), Jan 19: Congress President Sonia Gandhi today assured party workers in Punjab that the entire senior leadership was with them and asked them to stand firm and united.

In a message read out at a rally here, which she was supposed to attend but could not due to inclement weather, Gandhi said the entire senior leadership of the party was with the workers and will provide all kinds of support needed to bring the party back to power in the state. 

She said, the worst was over and it was matter of few days more when the people of Punjab will have a friendly government led by the Congress unlike the current one which has victimised people all over.

Gandhi asked the workers to stand firm and united and ensure that the Congress came to power in the state.  Her message was read out by party in-charge for Punjab Thakur Gulchain Singh Charak.

Inclement weather forced cancellation of the Congress President's scheduled rally at Moga today in the run up to the elections to the 117-member state Assembly on January 30. 

Dense fog, which had been blinding the state for the past few days, played a spoilsport for the Congressmen at Moga.

Acknowledging the people's support, Singh expressed his apologies to them for the inability of the Congress President to reach there.

He said, since the security and well being of Gandhi was more important than anything else, it was not advisable to fly in the bad weather.

He said, he had conveyed their sentiments to her as how they waited since morning in this biting cold to listen to her and that had made her more keen to come over.  He said, she was quite keen to come to Moga but was advised against flying in the bad weather.