SP MLA Rides A Horse On Deoria Railway Platform
Deoria (UP), Apr 1: Samajwadi Party MLA Shakir Ali was greeted by supporters at the Deoria railway station on Saturday and the legislator rode a horse on the railway station platform.The Railway Police Force has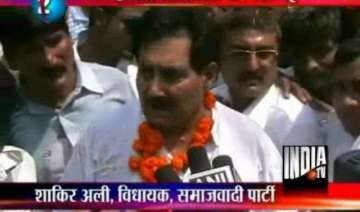 India TV News Desk
April 01, 2012 22:07 IST
Deoria (UP), Apr 1:
Samajwadi Party MLA Shakir Ali was greeted by supporters at the Deoria railway station on Saturday and the legislator rode a horse on the railway station platform.
The Railway Police Force has filed a case under Sections 145, 153 of Railway Act against the MLA and unknown persons.
The sections relate to acts meant to harm the safety of railway passengers.
At the railway station, the supporters of the MLA beat up a passenger for objecting to the rowdy reception.
The SP MLA had reached Deoria after taking oath in Lucknow. His supporters had come with horses on the railway platform to welcome their leader. Shakir Ali himself rode one of the horses.