SP Promises Quota For Muslims, Sheds Anti-English, Computer Image
Lucknow, Jan 20: Releasing its manifesto, Samajwadi party today promised separate reservation to Muslims to consolidate its traditional vote base and made a bid to shed its anti-English and computers image pledging to provide laptops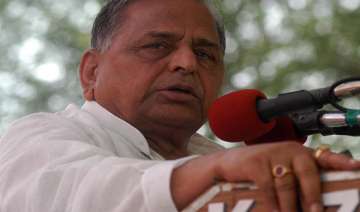 India TV News Desk
January 20, 2012 20:00 IST
Lucknow, Jan 20: Releasing its manifesto, Samajwadi party today promised separate reservation to Muslims to consolidate its traditional vote base and made a bid to shed its anti-English and computers image pledging to provide laptops and tablets to intermediate and high school passouts.

With Assembly elections in Uttar Pradesh round the corner, the principal opposition party also promised, if voted to power, a ban on land acquisition except in urgent circumstances and various sops for the agriculture sector.

On other issues, the SP vowed to go after party supremo Mulayam Singh Yadav's bete noire and Chief Minister Mayawati and constitute a Commission to probe corruption in the past five years. Yadav lost power to BSP in the 2007 elections. 

"We are touted as anti-English and computers by the media. We will provide laptops to intermediate and tablets to highschool passouts", senior SP leader Ramgopal Yadav said reading out the manifesto, which was released by Mulayam at the party office here.

Playing the Muslim card, SP promised to provide Muslims separate reservation on the basis of their population. Muslims account for an estimated 18 per cent of UP's population. 

"We will provide separate reservation to Muslims on the lines of Dalits," it said, adding the party will also pressurise Centre to implement recommendations of Ranganath Mishra and Rajinder Sachar committees."

After the Congress recently announced 4.5 per cent sub-quota for backward Muslims from out of the 27 per cent OBC quota, Rahul Gandhi had taunted the SP for not having given reservation to Muslims during its years of rule in UP. 

The party said it would also ensure release of Muslim youths, who were put behind bars in the name of action against terrorism, Ramgopal said. They will not only be released but compensation will also be given to them and the officers responsible for defaming them would be brought to book, he added.

The manifesto also promised technical education at Madarsas, aid to Muslim girls passing 10th class for future education or Rs 30 thousand for their marriage and free electricity to weavers.