Stalin did not kill Netaji, who was in Russia after 1945, says researcher Anuj Dhar
Bengaluru: Researcher and former journalist Anuj Dhar, who has written a book on Netaji Subhas Chandra Bose's disappearance, has said, "to say that Soviet dictator Stalin killed Netaji in connivance with Pandit Jawaharlal Nehru was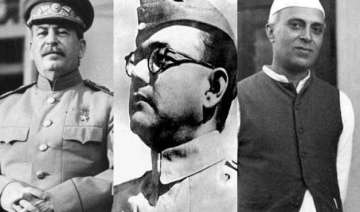 India TV News Desk
January 13, 2015 17:35 IST
Bengaluru: Researcher and former journalist Anuj Dhar, who has written a book on Netaji Subhas Chandra Bose's disappearance, has said, "to say that Soviet dictator Stalin killed Netaji in connivance with Pandit Jawaharlal Nehru was sheer nonsense, because Stalin hated Nehru. "
In an interview to Vicky Nanjappa of oneindia.com, Dhar said, "There is considerable data on record to show that the Government of India received enough intelligence to suggest that Netaji could have been in Soviet Russia.
"Nehru sent his own sister Vijayalakshmi Pandit to Soviet Russia as free India's first representative. But she wasn't even granted an audience with Stalin, who, on his part, hated Nehru. Stalin viewed India suspiciously as a Commonwealth state. Therefore, to think, as Dr (Subramanian) Swamy does, that Stalin got Netaji killed in connivance with Nehru makes no sense."
Dhar says: "Officially, the government denies that the issue of Netaji was ever taken up with the Russian in the Nehruvian era. Unofficially, it has been alleged that both (Vijayalakshmi) Pandit and her successor Dr Sarvepalli Radhakrishnan came to know about Netaji's presence in Soviet Russia, but the government left Bose out in the cold."
Asked why the Congress government did not act on Bose issue, Anuj Dhar says: "Initially all leaders, Gandhi Nehru and others, felt that Bose was alive. Making a statement as Home Member (Minister) Sardar Patel said as late as October 1946 that the interim government was not in a position to confirm the news of Bose's death.
A sudden turnaroud came towards late 1946, as Nehru announced that Bose had died in Taiwan. This was the original sin and from that time it has become a sort of gospel as spoken by Nehru. Eventually Patel also fell for it and today for the BJP, the trouble would be that if Nehru's stand is shown to be false, so would be Patel's.
"Given the current situation of our government sitting on piles of classified records and refusing to seek access to the secret Russian records, getting all the answers and explanations is not possible. The gap is at times filled by conspiracy theories."
Dhar says, the ashes at the Renkoji Temple in Tokyo belongs to a Japanese soldier named Ichiro Okura, but the Japanese are trying to pass off the body of Okura as that of Netaji's.
"Today it stands established that the news of Netaji's death in an air crash in Taiwan was planted by his Japanese benefactors in order to create a smokescreen so that he could escape to Soviet Russia via Manchuria", says Dhar.
Dhar's remarks comes in the wake of BJP leader Dr Subramanian Swamy's allegation that Nehru was part of the conspiracy to kill Netaji. He directly blamed Stalin for killing Bose in captivity in Siberia.
Swamy had said in Kolkata that there was no record of any plane crash and no record of any charred body in any hospital in Taiwan, according to the Americans. "Netaji was alive in 1947 and Nehru knew about it", Swamy had said.
The Prime Minister's Office (PMO) in a recent RTI reply in November last year  accepted that there were 41 files related to Bose, of which two had been declassified, but refused to disclose them taking
a position similar to that of the erstwhile Congress-led UPA government.
"Disclosure of documents contained in these files would prejudicially affect relations with foreign countries. As such, these files are exempted from disclosure under Section 8(1)(a) read with Section 8(2) of the Right to Information Act," the PMO has said.