State has no powers to regulate pre-primary admissions: Vinod Tawde
Mumbai: The Right to Education Act is effective above first standard and there was no law by which state government could regulate pre-primary admission process, Maharashtra Education Minister Vinod Tawde yesterday said.However, the government had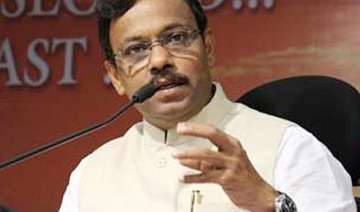 PTI
April 17, 2015 8:17 IST
Mumbai: The Right to Education Act is effective above first standard and there was no law by which state government could regulate pre-primary admission process, Maharashtra Education Minister Vinod Tawde yesterday said.
However, the government had received the report of a committee formed by the previous government on the issue, Tawde said while talking to reporters amid reports of "exorbitant" fees in some nursery and pre-primary schools.
"Right To Education (RTE) Act deals with education from the first standard. The government is committed to find a solution, but many parents are not aware that the government does not have the powers to regulate the pre-primary admission process," he said, talking to reporters here.
Asked about the excess fees charged by the schools affiliated to CBSE and other (non-state) boards, he said the government will seek a report on this.
Under the fee regulation law, the government can intervene where complaints about exorbitant fees are made, he added.
About MNS' warning of agitation over the issue of multiplex owners denying prime-time slots to Marathi films, Tawde, who also handles the Culture portfolio, said the government resolution (GR) notifying the recent decision on mandatory prime-time slots for Marathi films was being vetted by the home and revenue departments.
"The multiplex cinema owners have agreed to the government decision and if the Marathi film producers approach the government, the cultural affairs ministry will help," he said.