Strike shuts J&K over Charlie Hebdo's cartoon
Srinagar: Businesses and shops have closed in Jammu and Kashmir in a daylong strike called by separatists and religious parties protesting the publication of a caricature of Prophet Muhammad in the latest issue of French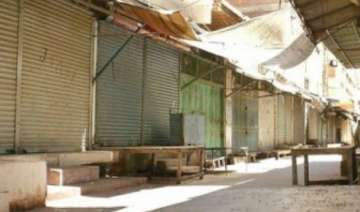 India TV News Desk
January 23, 2015 14:11 IST
Srinagar: Businesses and shops have closed in Jammu and Kashmir in a daylong strike called by separatists and religious parties protesting the publication of a caricature of Prophet Muhammad in the latest issue of French satirical weekly Charlie Hebdo.
Authorities restricted movement of residents in parts of the main city of Srinagar, fearing protests and clashes after Muslim Friday prayers.
Police overnight detained a top pro-independence leader, Mohammed Yasin Malik, who called Friday's strike and protests against the magazine's latest issue, which shows a drawing of a tearful Prophet Muhammad holding a sign "I am Charlie" in French.
It was published following a Jan. 7 attack on the magazine's Paris office that killed 12 people.
Many Muslims believe their faith forbids depictions of the prophet.