Students protest outside police station over woman's murder
New Delhi: Scores of students from Jawaharlal Nehru University and social activists Sunday staged a protest outside the Vasant Kunj police station in south Delhi over alleged police inaction in the rape-cum-murder case of a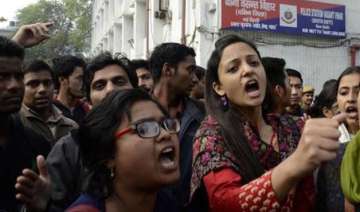 PTI
January 12, 2015 7:32 IST
New Delhi: Scores of students from Jawaharlal Nehru University and social activists Sunday staged a protest outside the Vasant Kunj police station in south Delhi over alleged police inaction in the rape-cum-murder case of a 30-year-old woman whose body was found in a nursery yesterday.
About 100 students gathered at the police station in the afternoon and raised slogans against the police for not "doing enough" for women security in the city.  
The protest continued for more than an hour and the demonstrators dispersed only after senior officials reached the spot and assured them of speedy and thorough investigation in the case.
Two persons have been detained in connection with the case, police said.
The victim who had been missing since Friday evening was allegedly killed after being brutally gang raped.
Her body was dumped in a Delhi Development Authority nursery in south Delhi's Vasant Kunj area.
The incident came to light yesterday around 8:20 AM when a security guard informed the police about the body that was lying in the bushes.
"The semi-naked body of the woman was found in the bushes of the nursery with its hands and legs tied," a senior police official had said.