Subrata Roy kept in same cell where once Amar Singh had stayed
New Delhi:  Sahara chief Subrata Roy, who was sent to judicial custody for a week in Delhi by the Supreme Court, has been kept in high-security Tihar prison where he slept on the floor and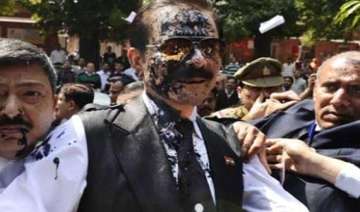 India TV News Desk
March 05, 2014 13:56 IST
New Delhi: 
Sahara chief Subrata Roy, who was sent to judicial custody for a week in Delhi by the Supreme Court, has been kept in high-security Tihar prison where he slept on the floor and ate jail food like an ordinary prisoner.
Roy is spending his time in Tihar's 'VIP' Jail number 3 in west Delhi where he will be allowed two visitors a day.
He has been given 8 feet by 8 feet room where once Amar Singh had stayed.
Roy's cell is also close to the one where the prime accused in the December 16 gang rape, Ram Singh, had hung himself.
This room is divided into two parts.
One of the senior officers said that he will be provided Rs. 5,000 debit card if his family deposits the amount.
Prison authorities have passed on clear warnings to their officers that the slightest offering of any privileges would result in immediate suspension from duty.