Supreme Court can't test validity of Muslim personal law: Islamic body Jamiat Ulama-i-Hind
New Delhi: In response to the Supreme Court's order to file a separate PIL to consider the rights of Muslim women,  Jamiat Ulama-i-Hind (JUH), the powerful Muslim body, has contended that the apex  Court cannot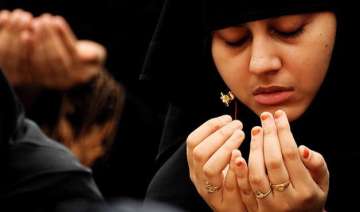 India TV News Desk
February 06, 2016 18:22 IST
New Delhi: In response to the Supreme Court's order to file a separate PIL to consider the rights of Muslim women,  Jamiat Ulama-i-Hind (JUH), the powerful Muslim body, has contended that the apex  Court cannot interfere with Muslim personal law since it amounts to 'judicial legislation'.
"Mohammedan law is founded essentially on the Holy Quran and this cannot fall within the purview of the expression 'laws in force' as mentioned in Article 13 of the Constitution, and hence its validity cannot be tested on a challenge based on Part-III of the Constitution (guaranteeing fundamental rights, including right to equality)," the JUH application filed through advocate Ejaz Maqbool said.
The JUH's observation into the matter came after Supreme Court yesterday allowed the Islamic body to become a party in a suo motu PIL instituted to deal with various issues including gender bias against Muslim women.
A bench comprising Chief Justice TS Thakur and Justices AK Sikri and R Banumathi, which had issued notices to the Attorney General and National Legal Services Authority on the PIL, directed the Centre and the organisation to file reply within six weeks.
Last year, the Supreme Court had decided to constitute a bench to examine Islamic personal law to do away with provisions biased against Muslim women. The court had said that the the Muslim Women (Protection of Rights on Divorce) Act, 1986 that was passed during the Rajiv Gandhi government needed to be examined by a Constitution Bench.
A bench of justices AR Dave and AK Goel had requested Chief Justice of India HL Dattu to form a bench to look into the matter to prohibit discrimination on the basis of sex.
The issue had cropped-up during the hearing of a matter related to Hindu Succession (Amendment) Act and the bench had noted that 'an important issue of gender discrimination which though not directly involved in this appeal, has been raised by some of the counsel for the parties which concerns rights to Muslim women. Discussions on gender discrimination led to this issue also'.
"It was pointed out that inspite of guarantee of the Constitution, Muslim women are subjected to discrimination. There is no safeguard against arbitrary divorce and second marriage by her husband during currency of the first marriage, resulting in denial of dignity and security to her."
In a recent survey conducted by NGO Bharatiya Muslim Mahila Andolan (BMMA), 92 per cent Muslim women in India favoured that practice of oral, unilateral and triple talaq should be banned.
India has separate personal laws for each religion that govern marriage, succession, adoption and maintenance. While the Hindu family laws were modified in the 50s, Muslim personal law remained mostly unchanged.