Swine Flu claims first life in Kota this year
Kota:  Swine flu claimed its first victim in the city this year with the death of a 30-year-old man at a government hospital here, health officials said today.  Narendra Gochar died of swine flu yesterday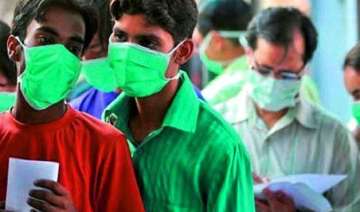 PTI
January 02, 2015 14:06 IST
Kota:  Swine flu claimed its first victim in the city this year with the death of a 30-year-old man at a government hospital here, health officials said today.  Narendra Gochar died of swine flu yesterday while undergoing treatment at Maharao Bheem Singh (MBS) hospital here, Chief Medical and Health Officer (CMHO) of Kota R N Yadav said.
Gochar, a resident of Rangbari slum area in the district, worked as a lab boy at a private Lab in Nayapura area here, he said.
He was admitted to MBS hospital on December 26 and tested positive for H1N1 virus, Yadav said, adding, he had been on ventilator in Intensive Care Unit (ICU) but succumbed to death yesterday.
Medical teams have been sent to the area after he tested positive for the H1N1 virus and his family members were administered Tami flu tablets and survey was carried out in his neighbouring areas, the CMHO said.  Tami flu is a medicine used to treat Swine flu.  
Meanwhile, a 58-year-old man from Rampura area of the district is suspected to have been infected with the swine flu virus and is currently undergoing treatment at a private hospital here, Yadav said.
Ashok Jain is kept under observation and six members of his family have been administered the preventive medicines.