Syed Ali Shah Geelani praises militants who killed Colonel MN Rai
New Delhi: Separatist leader Syed Ali Shah Geelani triggered a new controversy by praising two Kashmiri militants who were killed in a recent encounter that also cost the life of gallantry award recipient Colonel MN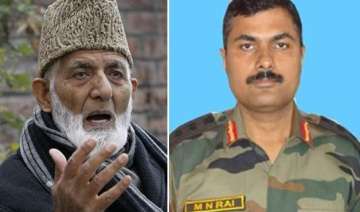 India TV News Desk
January 29, 2015 19:09 IST
New Delhi: Separatist leader Syed Ali Shah Geelani triggered a new controversy by praising two Kashmiri militants who were killed in a recent encounter that also cost the life of gallantry award recipient Colonel MN Rai.
The Tuesday encounter that took place in South Kashmir's Tral area also cost the life of head constable Sanjeev Kumar Singh.
The chairman of the hardline Hurriyat group, Geelani said that their "sacred blood" would not go in vain and India must accept the ground realities. He also sent a high-level party delegation to meet the families of the two Kashmiri youths.
Blaming the Indian government for the insurgency in the region Geelani said, "Due to the rigid and stubborn approach of the Indian government, the youth are opting for gun instead of pen and this policy is costing precious human lives in the region."
The 84 year old hardliner e-mailed his statement from Delhi, where he is receiving medical treatment.
His statement further read, "The violent path adopted by Kashmiri youth is not any act of hobby nor is it the result of unemployment. They are the students of different colleges and universities who are fully aware about the historical perspective and the tragedy of Kashmir."
Geelani further added, "These children have witnessed the people's revolutions in which millions of people came out on the roads and demanded their right to self- determination and reminded India about forgotten promises," referring to the 2008 and 2010 street agitations in Kashmir.
It is also worth a mention that one of the two militants, killed in encounter was the son of a head constable with J&K police. A leading daily's carried out a report that said that Khan's maternal uncle was also a militant. His cousin, Ishfaq Ahmad Khan, was arrested last year after he stabbed a policeman in an attempt to snatch his rifle.
Chairman of PoK based United Jihad Council, Syed Salahuddin also joined Geelani in paying tributes to the dead militants. "The two fighters fought bravely and demonstrate the fact that every Mujahid (warrior) of Hizb is committed to the Kashmir cause and is ready to sacrifice his precious life," he was quoted as saying by a leading daily.