Taiwan President Makes Suprise Stopover In Mumbai
Mumbai, April 9: Taiwan President Ma Ying-jeou's plane made a surprise stopover at Mumbai International Airport  on Sunday en-route to Africa. "The stopover was for refuelling and the president took rest in the VIP lounge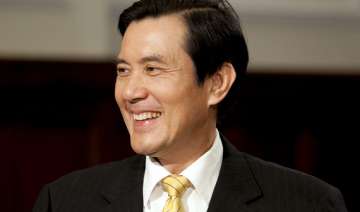 PTI
April 09, 2012 12:35 IST
Mumbai, April 9:
Taiwan President Ma Ying-jeou's plane made a surprise stopover at Mumbai International Airport  on Sunday en-route to Africa.
"The stopover was for refuelling and the president took rest in the VIP lounge for an hour," Naichi Hu, spokesperson for Taiwan liaison office in Delhi, said.  
The Mumbai Air Traffic Controller (ATC) was informed just about an hour before the plane's landing early this morning. "The ATC was alerted at around 4.00 AM that a VVIP flight will be landing in the city," the airport official said.
He said that the aircraft landed at around 5.15 AM and left at 7.20 AM.  
Taiwan's Central News Agency said that the flight was scheduled to stop for refuelling in Dubai but a change to India was announced at the last minute.
Ma's plane landed this morning at Chhatrapati Shivaji International Airport in Mumbai for refuelling then continued onward to the African continent where Ma will visit Burkina Faso, the Gambia and Swaziland -- all Taiwan diplomatic allies, it said.
India does not have formal diplomatic ties with Taiwan, which China still regards as part of its territory awaiting to be reunified. Only 23 nations formally recognise Taiwan.  
However, Taiwan's foreign ministry spokesman James Chang was quoted as saying that the stopover "is a sign of the improving ties with India."  
He added that Taiwan planned to open a second liaison office in India, in addition to the one already in New Delhi.