Tanzanian student beaten, stripped, paraded naked in Bengaluru
Bengaluru: A young Tanzanian woman was today stripped, beaten up and paraded naked for apparently no fault of hers. She was travelling in a car with three of her friends when she was dragged out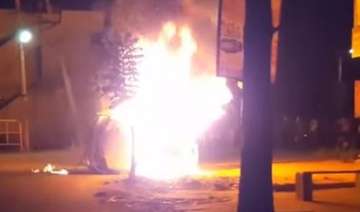 India TV News Desk
February 04, 2016 13:34 IST
Bengaluru: A young Tanzanian woman was today stripped, beaten up and paraded naked for apparently no fault of hers. She was travelling in a car with three of her friends when she was dragged out of her car and attacked.
According to authorities, the incident occurred when the 21-year-old student was travelling in a car with three of her friends on Sunday when a crowd stopped them. The locals, according to police officials, mistook the car for another which had an accident leaving one woman dead around half an hour ago.
The student was then dragged out of the Wagon-R before being allegedly stripped and paraded naked by a mob of at least 200 people. Her other friends in the car were also beaten up by the angry mob. The car was also set afire. 
According to the All African Students Union in Bengaluru, the passengers pushed her out when she tried to board a bus. As per reports, a bystander who offered a T-shirt to cover her was also beaten up by the mob.
The incident has prompted the Tanzanian embassy in India to ask the Indian government to take appropriate action in the matter. The High Commission of Tanzania has sent a Note Verbale about reported attacks on African students in Bangalore. The Note Verbale requests the Indian government to follow up on this matter and take necessary legal action against those involved in such attacks and to ensure safety and security of all African students in India.
"We are deeply pained over the shameful incident with a Tanzanian girl in Bengaluru," tweeted Union Minister of External Affairs Sushma Swaraj.
Meanwhile, India's Ministry of External Affairs has said it has spoken to the High Commissioner of Tanzania and expressed India's regret at the unfortunate incident. The MEA firther told the Tanzanian envoy that state authorities have assured that they are seized of the matter and have taken action to prevent any recurrence of such untoward incidents.
Acording to Bengaluru Police Commissioner N S Megharikh, after the pedestrian was killed, the driver of the car was assaulted before he was moved to hospital. The Tanzanian woman and her friends had reached the spot later, he said, adding, the mob mistook them for having been responsible for the mishap.
"We have taken up the case very seriously. We have zero tolerance for such incidents. We have registered the statement of the victim. We will be recording the statements of the other victims as well. Investigations are on and those responsible for this attack will be arrested at the earliest," he said later addressing reporters. 
However, reports suggest that the attack happened when the student's friends tried to save the driver actually responsible for the accident. Sources said that the accident was caused by a Sudanese national. The mob reportedly continued their attack on the innocent students despite realising that it was a clear case of mistaken identity.