Tanzanian woman assault: 5 arrested, Rahul seeks report from Karnataka CM
Bengaluru: Karnataka Police have arrested five persons in the case related to the Tanzanian woman who was allegedly attacked and molested in Bengaluru following a road accident." Five persons have been arrested so far related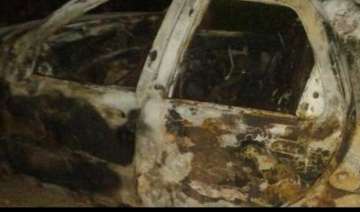 India TV News Desk
February 04, 2016 14:51 IST
Bengaluru: Karnataka Police have arrested five persons in the case related to the Tanzanian woman who was allegedly attacked and molested in Bengaluru following a road accident.
" Five persons have been arrested so far related to the incident, will ensure justice is done," Karnataka chief minister Siddarmaiah told reporters today.
Congress Vice President Rahul Gandhi has also sought report from the Karnataka government on the incident immediately, party general secretary Digvijaya Singh said.
"Rahul Gandhi asks Karnataka Govt to explain and send report immediately," Singh said in a series of tweets on Thursday.
"Strongly condemn incident with Tanzanian lady in Bangalore. Police must act strongly against the culprits," Singh, who is in-charge of party affairs in Karnataka, said.
Earlier Police launched a massive manhunt to nab the suspects.
"We have registered a case of riot and arson against the accused on victim's statement in which she reported of being assaulted in a mistaken identity by a mob on the outskirts of the city," city police commissioner N.S. Megharik told reporters here on Wednesday.
Denying reports in a section of media that the victim was also molested, Megharik said the African woman had admitted being only assaulted by a frenzied mob after her three male friends deserted her at Soladevanahalli where the car in which they were travelling was burnt.
"The incident occurred because the mob mistook the victim's car being involved in a road mishap on same night (January 31) when a 20-year-old drunken Sudanese national (Mohammed Ahad Ismai) ran over a woman fatally. We arrested him after he was rescued from a raging mob," Megharik said.
Police did not register a case soon after the road mishap and the mob attack, as the victim was not in the city for two days since Sunday.
"We have formed special teams to trap the culprits and render justice to the victim who declined to file complaint against the accused fearing attack again.
The victim's friends told police that on Sunday the furious mob had pulled them out of their car, assaulted them and molested her in which her clothes were torn.
The alleged hate crime took place a short while after a Sudanese man mowed down a woman in the same area on Sunday night.
The mob also thrashed for about an hour three male students travelling with the Tanzanian woman and torched their car, said Hassan, one of the victims.
When a concerned bystander tried to cover her with a T-shirt, he too was beaten," reported The Deccan Chronicle.
When a concerned bystander tried to cover her with a T-shirt, he too was beaten. When she attempted to board a bus and escape, the passengers of the bus threw her back into the arms of the mob.
Meanwhile, the city-based Tanzanian youth association decided to seek its embassy's help in registering an assault case and booking the culprits.
Earlier in the day, External Affairs Minister Sushma Swaraj described the attack as "shameful" and expressed deep pain over the Sunday incident on microblogging site Twitter.
"We are deeply pained over the shameful incident with a Tanzanian girl in Bengaluru. I spoke to the chief minister Karnataka. He informed me that a criminal case has been registered and four accused have been arrested," Sushma Swaraj tweeted.
The minister sought a report from the Karnataka government and asked Chief Minister Siddaramaiah to ensure safety of foreign students.
This is not the first time those viewed as outsiders by some local residents have faced attacks in the city. In March last year, four African students were badly injured in a scuffle after some locals objected to them entering a bar.
More than 30,000 people from the Northeast fled Bengaluru in August 2012 after a handful of attacks sparked rumours of a larger conspiracy.