Facebook restores Taslima Nasreen's account after disabling it for 36 hours
New Delhi: Controversial Bangladeshi writer Taslima Nasreen's Facebook account has been restored after being kept disabled since Tuesday morning. Facebook authorities had disabled her website allegedly after numerous pro-Islamic Facebook users 'reported' against her writings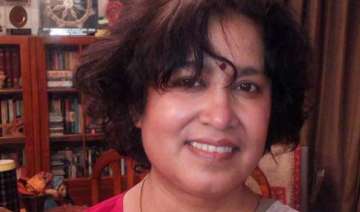 India TV News Desk
April 15, 2015 19:07 IST
New Delhi: Controversial Bangladeshi writer Taslima Nasreen's Facebook account has been restored after being kept disabled since Tuesday morning. Facebook authorities had disabled her website allegedly after numerous pro-Islamic Facebook users 'reported' against her writings on the social website.  
Nasreen was posting her comments on Facebook under the name 'Nasreen Taslima', but on Tuesday morning after she posted her comments on German Nobel Prize winning author Gunther Grass' death, she found her account disabled.
"Stupid facebook authority always disable my accounts, whenever stupid Islamists make a complaint against my facebook posts", Taslmia had tweeted.
There are several accounts of Facebook with fake IDs of Taslima Nasreen, but her real Facebook account was disabled. Her account has now been restored.
"I never expected such an action from a social website like Facebook. They had earlier too disabled my Facebook account several times, but I managed to get it restored", Taslima Nasreen told Bangladesh Pratidin newspaper.
"I have spoken to Facebook authorities, and I have told them that those who have reported against me (to Facebook) do not believe in free thinking. Such people try to curb the freedom of expression of others", the author said.
Taslima has 73,821 followers on her FB account.
"Will Facebook be taken over by Muslim fundamentalists like ISIS, will they decide who will stay on FB or not?", Taslima had tweeted after her FB account was blocked.