Teenager killed in grenade blast in Rajouri
Jammu: A teenager was killed when a hand grenade which he had found in a field exploded in Rajouri district of Jammu region, police said today.  18-year-old Mohmmad Manzoor was grazing cattle in Thanamang forest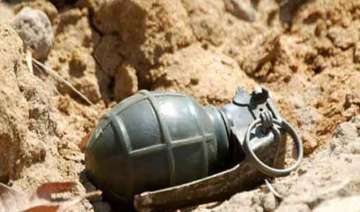 PTI
January 10, 2015 12:40 IST
Jammu: A teenager was killed when a hand grenade which he had found in a field exploded in Rajouri district of Jammu region, police said today.  18-year-old Mohmmad Manzoor was grazing cattle in Thanamang forest of Darhal belt in the district yesterday when he found the rusted grenade, sub-divisional police officer (SDPO), Thanamandi, Surjeet Kumar said today.  
"Manzoor reached the site with a herd of goats and found the grenade which accidentally exploded while he tried to fiddle with it, and he died on the spot," Kumar said.  "We inspected the blast site and found a grenade pin.
This area is infested by militancy, so most probably this must be an old grenade lying in the bushes. The pin is rusty," he added.
The body of Manzoor has been handed over to his family for burial and a case has been registered in this regard, Kumar said.
Police have launched a massive search operation in the area for further investigation.