Telangana, Andhra celebrate New Year with pomp
Hyderabad: Telugu states Telangana and Andhra Pradesh on Thursday celebrated the New Year with pomp and enthusiasm.At the stroke of midnight, wild celebrations broke out in Hyderabad and other towns of Telangana as also in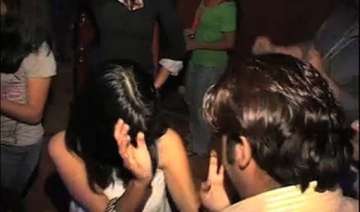 IANS
January 01, 2015 6:53 IST
Hyderabad: Telugu states Telangana and Andhra Pradesh on Thursday celebrated the New Year with pomp and enthusiasm.
At the stroke of midnight, wild celebrations broke out in Hyderabad and other towns of Telangana as also in Visakhapatnam, Vijayawada and other towns of neighbouring Andhra Pradesh.
Youngsters burst firecrackers and danced to the popular numbers to welcome the New Year. Despite police restrictions, they were seen roaming around on the bikes with many of them riding triple in violation of traffic rules.
"Happy New Year" rent the air as the revellers greeted each other on roads, hotels, clubs, malls and other venues of the New Year parties.
This is the first new year celebrations after division of Andhra Pradesh to form Telangana state.
Police made elaborate security arrangements in twin cities of Hyderabad and Secunderabad and the adjacent Cyberabad commissionerate limits to prevent any untoward incident.
All flyovers including PVNR Expressway which connects the city to the international airport were closed for traffic. Tank Bund and Necklace Road were also out of bounds for people as police took all precautionary measures.
Special teams conducted vehicle checking at several places to crack down on drunk and rash driving.
With the Intelligence Bureau (IB) alerting all states to be vigilant about possible terror strikes, police in the capital did not want to take any chance. Police were already on alert following a bomb blast in Bangalore Sunday.
In Cyberabad, Outer Ring Road has been closed for light motor vehicles and passenger vehicles.