Telangana effect: Two killed in Assam for statehood demand, Curfew in Diphu
Diphu, Assam, Aug 1: One person was killed allegedly in police firing today, taking the toll to two, as protesters turned violent and vandalised various public buildings and set satellite dishes of the All India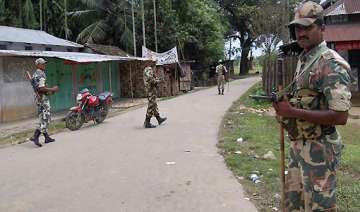 PTI
August 01, 2013 21:34 IST
Diphu, Assam, Aug 1:
One person was killed allegedly in police firing today, taking the toll to two, as protesters turned violent and vandalised various public buildings and set satellite dishes of the All India Radio on fire here in Karbi Anglong district amidst demand for a separate state in Assam.
Gautam Timung, was killed in police firing when agitators tried to remove a portion of railway lines after they were repaired following the removal of another portion at a place between Doldoli and Dhansiri on the Diphu-Dimapur line, official sources said.
Earlier, A 22-year-old college student, Rahul Signa, who was injured in police firing, when he was locking up his father's shop after violence broke out yesterday, died of his injuries late last night, the sources said.
The police also fired in the air near the All India Radio building after agitators set ablaze satellite dishes halting broadcast and relay and torched a waiting room constructed of wood, the sources said.
Buildings of the Public Works Department, Forest and Sarva Shiksha Abhiyan offices, constructed of wood, were also set ablaze by agitators, the sources said.
The office of the Assam Sahitya Sabha, Assam's apex literary body, was also damaged by them, they said.
The army, called in yesterday, was on stand by to assist the district administration with police and paramilitary forces on patrol, the sources said.
The agitators belonged to the Karbi Students Association, Karbi Riso Adorba and NSUI and several other organisations.
The violence started yesterday as protesters demand for a separate state carved out of two Assam districts on the lines of Telangana.
The agitators targeted public buildings, residences of politicians, the Congress office, Autonomous District Council building, Chief Executive Member's residence while a bus counter and vehicles were torched.
To control the violence, the police yesterday opened fire at many places injuring 20 people.
Meanwhile, the Hills State Democratic Party has called a 100-hour bandh in the two hill districts of Karbi Anglong and Dima Hasao from August 5 to reinforce the demand for a separate Karbi Anglong state.