Telecom Security Directorate mooted by DoT
New Delhi, Aug 4: In the wake of vulnerability of the telecom network at the hand of hackers, a proposal for setting up Telecom Security Directorate (TSD) has been mooted to ensure a coherent organisational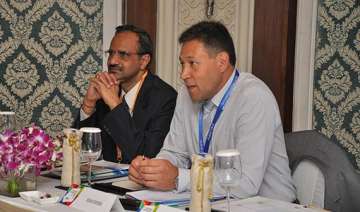 PTI
August 04, 2013 20:50 IST
New Delhi, Aug 4:
In the wake of vulnerability of the telecom network at the hand of hackers, a proposal for setting up Telecom Security Directorate (TSD) has been mooted to ensure a coherent organisational structure for tackling cyber threats.
A document has been moved by the Department of Telecom (DoT) which reasons that such an organisation was the "need of the hour" as it is observed that departments of many ministries were dealing in network security "in bits and pieces".
The note said many organisations like Intelligence Bureau, DoT, National Technical Research Organisation (NTRO), Telecom Enforcement Resources and Monitoring (TERM), National Security Council Secretariat, Department of Information Technology (DeitY) and others were working in ensuring safety of telecom network of the country.
"However, main coordination work and the work related to security policies and project execution is being done by security unit, which is not well structured to deal with all the works that need to be carried.
"Secondly, the unit...Is constrained by administrative and financial powers, which are must for operating a unit effectively. Hence there is an urgent need to create TSD," the note signed by DoT Deputy Director General Ram Narian said.
The note has been sent to Telecom Commission for approval or sending it to Union cabinet with its recommendation in case the Commission did not have powers to approve.
The DoT note reasoned that the most of the economic activities of a nation depended upon telecom infrastructure of the nation. "Inimical forces could bring down the economic activities of a country to halt in short moment from anywhere in the world," the note said and gave an example of Estonia, a country in North Europe, which faced a similar attack in 2007.
All banks, government departments, traffic lights and connectivity with the rest of the world came to a standstill in Estonia when hackers blocked websites of government departments, including police.
The country saw the worst chaos on roads. For the first time, a country faced a frontal, anonymous attack that swamped the websites of banks, ministries, newspapers and broadcasters.
According to the DoT note, it was also proposed to set up National Telecom Network Security Coordination Board (NTNSCB) comprising DoT and Information Technology Secretaries as members besides Deputy National Security Adviser, Intelligence Bureau Chief, Member (Technical) of DoT and Chairman, NTRO.
This board will explore new areas of work related to TSD.
As per the proposal, the TSD will immediately require a staff of 155 people which can go up to 296 in two years and and finally up to 450.