The 'terror boat' linked to Pakistani Drug Mafia by Karachi investigators
New Delhi: The Pakistani terror boat destroyed in an Indian Coast Guard operation on January 1, off the Gujarat Coastal line, is now linked to the drug Mafia by the investigators in Karachi.According to highly-placed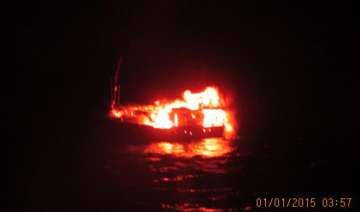 India TV News Desk
January 05, 2015 11:36 IST
New Delhi: The Pakistani terror boat destroyed in an Indian Coast Guard operation on January 1, off the Gujarat Coastal line, is now linked to the drug Mafia by the investigators in Karachi.
According to highly-placed sources of Pakistan the 25-foot vessel named Qalandar was captained by one Yaqboob Baloch, a resident of the gang-war torn Lyari town in Karachi.
Rest of the three crew members on the boat are only partially identified by them and are currently tagged as Yaseen, Ibrahim and 'Dhobi'.
READ MORE: Pak boat men not smugglers but suspected terrorists: Parrikar
They also believed that the boat often carried contraband for the Balochistan-based drug cartel of Mir Yakub Bizenjo, an absconder named by US in 2009 as a leading player in trans-border trade of Narcotics.
The boat, police sources said, had set out from Balochistan Coast near the port of Gwadar, likely carrying a cargo of dates, and bootleg alcohol, allegedly brought in from the Gulf, and a consignment of heroin.
The same boat was spotted by Pakistan Navy Frigate, PNS Babur loitering around Pakistan's exclusive economic zone, some 200 nautical miles off the Karachi Coast however, in order to avoid being searched by the coastal authorities it slipped further south towards India.
Sources further disclosed that the men on board, are thought to have been working for several criminal Mafias running alcohol, diesel and drugs allegedly between Dubai and Karachi.
The report of crew members being killed on the boat is yet to be ascertained by the Intelligence of both the countries.
Contrary to all the reports, forensic experts noted that the photographs of the burning boat showed its structure intact, raising speculations whether persons on board have actually died, because explosions burning munitions would actually set the boat off.
Meanwhile, Pakistani sources are sympathetic towards the entire operation. "I don't blame the Indians with their Mumbai 26/11 experience. These looked to be petty criminals who were at a wrong place at a wrong time," a source said.