Thackeray Hate Speech At The Behest Of Cong : Nitish
Patna, Jan 11: Bihar Chief Minister Nitish Kumar today took strong exception to Maharashtra Navnirman Sena chief Raj Thackeray's renewed attack on north Indians and alleged that such venom was spread at the behest of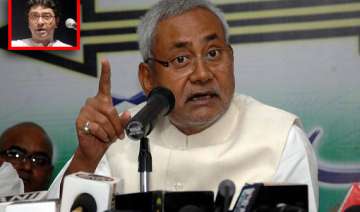 India TV News Desk
January 11, 2012 18:52 IST
Patna, Jan 11: Bihar Chief Minister Nitish Kumar today took strong exception to Maharashtra Navnirman Sena chief Raj Thackeray's renewed attack on north Indians and alleged that such venom was spread at the behest of Congress keeping in mind of the next state elections.

"It is the constitutional right of the citizens to go anywhere for jobs. For the sake of electoral gains such statements have been made at the behest of Congress," Kumar told reporters here.

"Stern action should be taken against those who make such uncalled for provocative statements to divide the country. But Maharashtra government does not take any action deliberately," he said.

Referring to malnutrition, Kumar said Centre should make resources available to states to overcome it.

"We can't claim of country's progress keeping in mind the calculation of DGP growth. The real progress will be achieved when malnutrition becomes a thing of the past," he said.

It was unfortunate that drinking water was not available to every citizen in the country, he said.

To provide drinking water without arsenic and floride required heavy resources, Kumar said.