Thackeray Questions Sonia's Contribution, Ridicules Rahul Gandhi
Mumbai, Jan 8: Shiv Sena chief Bal Thackeray has raked up the issue of Congress president Sonia Gandhi's "foreign origin" and ridiculed Rahul Gandhi's prime ministerial ambitions.In an interview to party mouthpiece 'Saamna', Thackeray said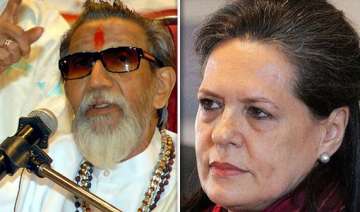 PTI
January 08, 2012 21:42 IST
Mumbai, Jan 8: Shiv Sena chief Bal Thackeray has raked up the issue of Congress president Sonia Gandhi's "foreign origin" and ridiculed Rahul Gandhi's prime ministerial ambitions.

In an interview to party mouthpiece 'Saamna', Thackeray said Sonia was a foreigner. "What love will she have for this country and what is her contribution here," he asked.

"You see what is going on in the country. There is controversy over the Army chief's age and the matter is in court. Whose reputation is in jeopardy? There is no question of Sonia's reputation as she is a foreigner," he said.


On Rahul, he said, "He was born yesterday and wants to be prime minister today. Is the PM's post up for auction?"

The atmosphere in the country was polluted by Congress, he said.

Thackeray, who celebrates his 86th birthday on January 23, when asked the "secret" of his good health, said, "If I reveal my secret, all these Congressmen will emulate it."

Thackeray dubbed as "political rape " what he called Anna Hazare's "5-star, corporate hunger strike for trivial causes" and dismissed Team Anna members as a bunch of "worthless" persons.

In the interview  he hit out at Kiran Bedi, Arvind Kejriwal and Manish Sisodia but did not name Anna Hazare.




"There are differences between them (Team Anna). They are all worthless .... Kejriwal, Bedi, Sisodia.  All are worthless," he said.

The Sena chief also ridiculed  what he called Hazare's "five-star, corporate" hunger strike agitation, saying the hunger strikes were for trivial causes. "This is nothing but a political rape," he said.

Does the country really need the Lokpal bill, he asked.

He accused Team Anna members of "cheating" the government. The Shanti Bhushan episode - the former Union minister allegedly evaded stamp duty to the tune of Rs 1.35 crore in the purchase of a prime property - was a case in point, he said.