Siachen Martyr Hanumanthappa: 5 things to know about Indian soldier who fought death for 9 days
New Delhi: The whole nation lauded Lance Naik Hanumanthappa who was miraculously rescued alive from beneath tonnes of snow after six days but unfortunately passed away at 11:45 am on Thursday.The soldier battled for his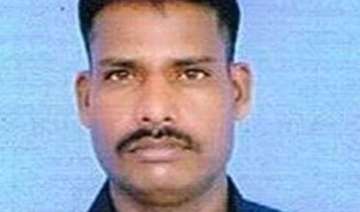 India TV News Desk
February 13, 2016 9:11 IST
New Delhi: The whole nation lauded Lance Naik Hanumanthappa who was miraculously rescued alive from beneath tonnes of snow after six days but unfortunately passed away at 11:45 am on Thursday.
The soldier battled for his life at the Army's Research & Referral hospital in New Delhi. He was admitted there on Tuesday morning and was on the ventilator since.
His condition deteriorated due to multiple organ failure and in such condition it became really challenging to survive.
The entire nation is paying tribute to Hanumanthappa and even President and PM Modi joined the chain to express grief over death of the brave soldier.
Here are few unknown facts to know about Siachen brave soldier.
1.    Challenges faced by Hanumanthappa in his life
He joined Indian army on 25 October of 2002 and sacrificed his 13 years of his life for the nation. He belonged to a farming family in Betadur village, Kundagol taluk, Dharwad district, Karnataka.
He was the youngest in his family who came up the hard way, attending the high school at Aralikatti village by walking 6 km every day.
Despite being rejected thrice by Army recruitment rallies at Belagavi, Dharwad and Gadag he kept on trying and finally managed to get in the Indian army and served the nation till last breathe.
2. Chose conflict areas over peace posting
He chose difficult areas over peace postings and fought for 10 years in difficult conditions for the nation.
Despite the spine-chilling minus 45 degrees Celsius temperature at Siachen altitude, he opted to serve at the challenging terrains from the beginning where human being cannot breathe easily.
3. Hanumanthappa followed yoga to survive the difficult terrain
                                                                            
Hanumanthappa was enrolled in 19th Battalion of the Madras Regiment on October 25, 2002. He was highly motivated and physically fit.
According to the doctors who treated him, he must have done yoga in order to survive 6 days .
4. His tenure of serving Indian Army
The soldier has served in Mahore (J&K) from 2003 to 2006 where he was actively involved in counter-insurgency operations. He again volunteered to serve with 54 Rashtriya Rifles (Madras) in the state from 2008 to 2010 where he displayed indomitable courage and gallantry in fighting terrorism during his tenure.
5. Family
The soldier was survived by 2-years-old daughter Netra and wife Mahadevi (Jayashri).  He visited to Betadur almost 6 months ago. His earnings helped family to build a house on a government allotted site in the village.