Three Nagpur Engg Students Drowned In Lake
Nagpur, Jan 4: Three students of Yashwantrao Chavan College of Engineering were drowned in a lake near Nagpur while on a picnic  on Tuesday.Dhiren Bhat from Jammu and Kashmir, Abhishek from Chandrapur, Maharashtra and Anshul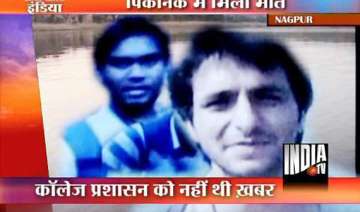 India TV News Desk
January 04, 2012 15:50 IST
Nagpur, Jan 4: Three students of Yashwantrao Chavan College of Engineering were drowned in a lake near Nagpur while on a picnic  on Tuesday.

Dhiren Bhat from Jammu and Kashmir, Abhishek from Chandrapur, Maharashtra and Anshul Pathak from Singrauli, MP, had gone for the picnic to Mohgaon Point near Hingla when the mishap took place.

Nearly 40 students of IT engineering had gone for the picnic, out of which 12 males decided to go for a swim.

As one of them sank in deep water, the two others tried to rescue him, but they too were drowned. All the three bodies have been recovered.