Tibetans protest self-immolation by monk
Dharamshala (HP): Tibetans living in-exile here on Monday night held a candle light vigil to mourn and express solidarity with monk's family who set himself on fire in Ngaba County in Tibet to protest against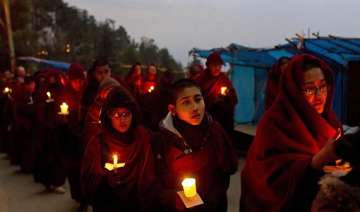 India TV News Desk
March 18, 2014 11:47 IST
Dharamshala (HP):
Tibetans living in-exile here on Monday night held a candle light vigil to mourn and express solidarity with monk's family who set himself on fire in Ngaba County in Tibet to protest against repressive policies of the Chinese government. 
Lobsang Palden, 20, from the restive Kirti monastery in Sichuan province's Ngaba (in Chinese, Aba) Tibetan Autonomous Prefecture, self-immolated in Ngaba county. 
Palden had reportedly left a text message in his phone in which he prayed for his parents, family members, teachers and relatives. 
He also called for unity among Tibetans. 
The message says, "We should maintain cordial relations with others, particularly with Chinese because if we are united and have love for each other, no matter what our thoughts are, it will enable us to communicate with each other better." 
Local Tibetans in Dharamshala shut down their shops and restaurants to mourn and express solidarity with the monk's family members. 
They gathered at the main square of McLeodganj in Dharamshala to hold a candle light vigil. 
Leading Tibetan NGOs in-exile organized the vigil here last evening. 
127 Tibetans have self immolated since 2009.