Tiger population in India rises to 2226 in 2014, growth by 30% in three years
New Delhi: A report released on Tuesday stated that the Tiger population in India has reached 2,226 in 2014. Earlier in 2011 tiger census report, the total number of tigers in the country was only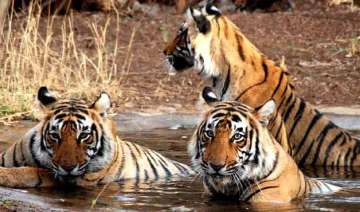 India TV News Desk
January 20, 2015 14:43 IST
New Delhi: A report released on Tuesday stated that the Tiger population in India has reached 2,226 in 2014. Earlier in 2011 tiger census report, the total number of tigers in the country was only 1706.
The results included figures from 17 states having tiger population - Karnataka has the most number of tigers at 406, Uttarakhand has 340 tigers, Tamil Nadu - 229, Madhya Pradesh - 208, Maharashtra - 190 and the Sundarbans in Bengal has 76 tigers.
Environment Minister Prakash Javadekar said on Tuesday, "While the tiger population is falling in the world, it is rising in India. It is great news." According to environment ministry also, this is a sharp rise from the figures three years ago.
"Never before such an exercise has been taken. We have unique photographs of 80% of tigers," the Minister added, talking about the year-long survey that helped prepare the estimation report.
The Tiger Census report of 2008 year which had total 1411 tigers, classified the tiger occupied forests in India into 6 landscape — Shivalik-Gangetic Plains, Central Indian Landscape Complex , Eastern Ghats, Western Ghats, North-Eastern Hills and Bhramaputra Plains, and Sunderbans.
India has struggled to stop the rapid decline of its big cat population from these areas in the face of poachers, international smuggling networks and loss of habitat. Over the past several years, the government has sanctioned many projects to save tigers and we can firmly say that result is fruitful.