Time to tap incredible possibilities by India, US: Kerry
Gandhinagar: Terming it as a perfect time to tap "incredible possibilities" between India and the US, Secretary of State John Kerry today said programmes like 'Make in India' can be a win-win situation for the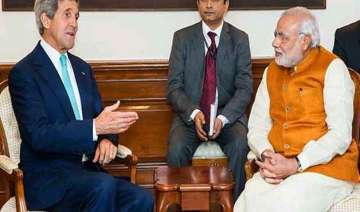 PTI
January 11, 2015 16:52 IST
Gandhinagar: Terming it as a perfect time to tap "incredible possibilities" between India and the US, Secretary of State John Kerry today said programmes like 'Make in India' can be a win-win situation for the entire planet.
Showering fulsome praise on Prime Minister Narendra Modi at the Vibrant Gujarat Summit here, Kerry also said he has been very much impressed with his 'Sabka Saath, Sabka Vikas' campaign and suggested emulating this "pretty good slogan" at the global as well as at Indo-US levels.
He also referred to Modi's journey "from a young man who sold tea right by the rail road here in Gujarat to the PM's residence on the Race Course Road", while talking about changing political and economic situation in India.  "We join with you celebrating extraordinary new chapter of India that is being written today," he said at the biennial global business summit inaugurated this morning by Modi.
On ties between the two countries, Kerry said, "The momenthas never been more right to tap the incredible possibilities between India and the US." He added that the economic partnership is already getting stronger by the day.
"I was very taken during PM Modi's campaign 'Sabka Saath, Sabka Vikas', participation of all for development of all.
That sounds like a pretty good slogan for all of us to adopt, and if we adopt it we can get the job done."
"We will turn Modi's 'Make in India' initiative a win-win opportunity for the planet as a whole," he said.
Kerry also said that President Barack Obama was "very excited" to be the first US President to be the chief guest at India's Republic Day celebrations later this month.
"And he will the first sitting US President to visit India twice while in office," Kerry said.
Referring to the terror attack in Paris last week, Kerry said no act of terror will ever stop "the march of freedom" and the entire world is with the people of France, not just in "anger and outrage" but in "solidarity and commitment" to the cause of confronting extremism.