Timeline of Satyam case
The following is a timeline of the major developments in the Satyam case, in which a special CBI court on Thursday sentenced B. Ramalinga Raju, his two brothers and seven others to seven years in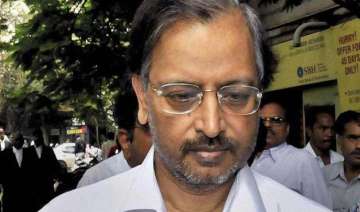 IANS
April 09, 2015 19:03 IST
The following is a timeline of the major developments in the Satyam case, in which a special CBI court on Thursday sentenced B. Ramalinga Raju, his two brothers and seven others to seven years in prison.
January 7, 2009: Ramalinga Raju resigns as chairman of Satyam Computer Services Ltd., and confesses that the company's account books and profits were inflated over many years.
January 9, 2009: Police arrest Ramalinga Raju, his brother and company director Rama Raju, Centre disbands Satyam board; Sensex, Nifty remove Satyam.
January 10, 2009: Satyam's CFO Srinivas Vadlamani arrested.
January 11, 2009: Centre appoints Deepak Parekh, Kiran Karnik and C. Achuthan to the Satyam board.
February 16, 2009: CBI takes over investigation, tells the court that Satyam caused loss to the investors to the tune of Rs.14,162 crore.
March 6, 2009: SEBI gives nod for bidding process to select investor in Satyam.
April 7, 2009: CBI files first chargesheet, charging Raju and others with criminal conspiracy, cheating, forgery, falsification of accounts and disappearance of evidence.
April 22, 2009: Tech Mahindra acquires Satyam in open auction.
June 2009: Tech Mahindra unveils Mahindra Satyam, the new brand identity for Satyam.
November 24, 2009: CBI files second chargesheet, highlighting more financial transactions by Raju and his associates.
January 7, 2010: Third chargesheet filed.
January 15, 2010: Andhra Pradesh High Court constitutes special court.
August 18, 2010: Andhra Pradesh High Court grants bail to the accused.
October 26, 2010: Supreme Court rejects bail and directs the accused to surrender by November 10.
November 2, 2010: Trial begins in special court.
November 4, 2011: Supreme Court grants bail to Raju and others as the trial court failed to complete hearing within the timeframe set by it.
October 28, 2013: Enforcement Directorate files criminal complaint against 47 people and 166 corporate entities headed by Ramalinga Raju.
December 8, 2014: An economic offences court sentences Ramalinga Raju and three others to six months imprisonment in six of the seven cases filed by the Serious Fraud Investigation Office (SFIO).
December 23, 2014: Special court postpones verdict citing voluminous documents.
March 9, 2015: Court defers verdict till April 9.
April 9, 2015: Ramalinga Raju and nine others found guilty, sentenced to seven years imprisonment.