Top Five News Headlines of April 30
Moga molestation: Bus belongs to us, admits Punjab CM Prakash Singh BadalThe incident of sexual harassment in Punjab's Moga district is now taking a political turn as the entire opposition is demanding strict action against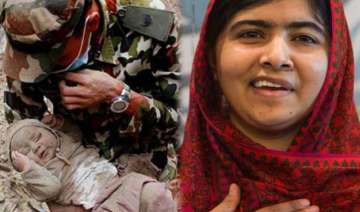 India TV News Desk
April 30, 2015 21:02 IST
The incident of sexual harassment in Punjab's Moga district is now taking a political turn as the entire opposition is demanding strict action against the Badal family which owns the private bus company.
After being questioned on several fronts Punjab Chief Minister Prakash Singh Badal expressed grief over the death of a teenager who along with her mother were thrown off a bus that is owned by his family
At a time when Nepal is struggling to bring back normalcy after a massive earthquake of 7.9 magnitude hit the Himalayan state, the relief material sent by Pakistan has created a new controversy that has shocked the Nepalese people.
Pakistan, in the name of relief material, has reportedly sent ready-to-eat 'beef masala' packets as part of relief material to a country where the cow is considered sacred
The toll in the massive earthquake that devastated Nepal has risen to 5,489, the Nepalese home ministry said on Thursday.
As many as 10,965 people were injured.
According to the National Emergency Operation Centre, Sindhupalchowk is the worst-hit district with 1,587 deaths, Xinhua news agency reported.
A demand to ban a purported ayurveda product by yoga guru Ramdev's Divya Pharmacy that promises a male child was made in Rajya Sabha today, with Opposition members terming it as illegal and unconstitutional and seeking stringent action against the manufacturers.
When the House met for the day, K C Tyagi (JD-U) showed a a packet called 'Putrajeevak Beej', which he claimed to have bought from Divya Pharmacy that promised the delivery of a male child.
Four Pakistani Taliban militants were today sentenced to 25 years in jail by an anti-terrorism court for their role in the 2012 attack on Malala Yousafzai, the teenage child rights activist who last year won the Nobel Peace Prize.
Tehreek-i-Taliban Pakistan (TTP) militants had claimed the responsibility of the attack on Malala in October 2012 as she was returning from her school in the Mingora town of Swat district.