Top NDFB(S) ultra nabbed
Guwahati: A top commander of NDFB(S), which was behind the December massacre of adivasis in the lower Assam districts, was today apprehended by the army in Goalpara district of the state along with arms.  Defence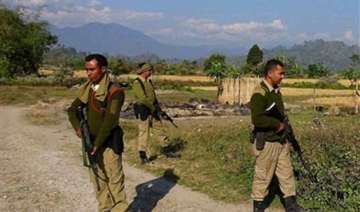 PTI
January 14, 2015 19:38 IST
Guwahati: A top commander of NDFB(S), which was behind the December massacre of adivasis in the lower Assam districts, was today apprehended by the army in Goalpara district of the state along with arms.  Defence sources said here that based on specific inputs provided by the army's Gajraj Intelligence Unit, the troops of Red Horn Division nabbed the insurgent during an operation from Bakhrakhuti village in Goalpara district.  The ultra was identified as self-styled platoon commander of Dhubri platoon, 14th Battalion of NDFB(S), Pradeep Brahma alias Pwler, the sources said.
Twelve rounds of M-16, two detonators and Cordex wire were seized from him, they said.
Pradeep, who was trained in Bangladesh, is known to be ruthless and was involved in the killing of many people and attacks on police personnel, the sources said.  Security forces have been carrying out relentless operation in Kokrajhar and Chirang districts since the December 23 carnage there to apprehend the militants behind it.
In another operation by the army, two 'Rabha Viper Army' ultras—Ful Kumar Rabha and Bishwajit Rabha—were apprehended from Kashibari village in Kokrajhar district today and one 9 mm carbine machine gun was seized from them, the sources added.