PM Modi to address 8th edition of 'Mann Ki Baat' today, 5 other major events of the day
PM Modi to share his thoughts on 'Mann Ki Baat' todayNew Delhi: Prime Minister Narendra Modi will today address the nation in the eighth edition of the 'Mann Ki Baat' programme on All India Radio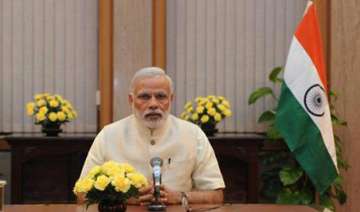 India TV News Desk
May 31, 2015 10:30 IST
PM Modi to share his thoughts on 'Mann Ki Baat' today
New Delhi: Prime Minister Narendra Modi will today address the nation in the eighth edition of the 'Mann Ki Baat' programme on All India Radio (AIR) at 11 am.
External Affairs Minister Sushma Swaraj to hold a press conference today
New Delhi: External Affairs Minister Sushma Swaraj will today hold a press conference at 3 PM Jawaharlal Nehru Bhawan in New Delhi to count the achievements of one-year old BJP-led NDA government.
Former Haryana CM Hooda to launch campaign against Khattar govt today
Rohtak: Former Haryana chief minister Bhupinder Singh Hooda along with his supporters will today be launching 'jansampark abhiyan' from Kandela village in Jind district against the anti-people policies of Manohar Lal Khattar-led BJP government in the state.
President Mukherjee on a three-day official visit to Sweden
New Delhi: President Pranab Mukherjee will travel to Sweden on a three-day official visit from May 31 to June 2, the Ministry of External Affairs (MEA) confirmed. The President will later visit Belarus on June 2-4.
Government likely to take call on re-promulgation Land Ordinance today
New Delhi: The government is likely to take a call on re-promulgation of the controversial land acquisition ordinance today.
Today is 'World No Tobacco Day'