Traffic violations to attract steeper fines; half-baked, say experts
New Delhi:Dangerous driving that causes the death of a child would now attract a penalty of Rs.50,000 ($805) as well as imprisonment under proposed legislation that suggests an over 40 percent increase in existing fines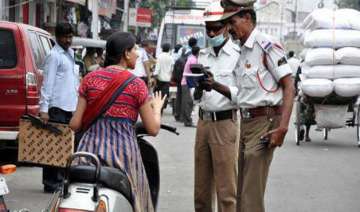 IANS
April 10, 2015 13:27 IST
New Delhi:Dangerous driving that causes the death of a child would now attract a penalty of Rs.50,000 ($805) as well as imprisonment under proposed legislation that suggests an over 40 percent increase in existing fines for traffic infractions. However, BJP leader and former top cop Kiran Bedi calls it a "joke", echoing experts who find the hikes a half-baked solution and call for Prime Minister Narendra Modi to whip up a "national movement" for road safety akin to Swachch Bharat.
"A fine of Rs.50,000 for causing a death is a joke. Is life so cheap in India," Bedi, known for ruthlessly enforcing the law as the traffic head of Delhi Police in the seventies, asked while speaking to IANS, adding: "We need prevention and not collection of fines. Toughness of law and fairness in enforcement along with advanced technology for sound traffic management is the answer for road safety."
While such pecuniary penalties play a "vital role", experts say holistic traffic management must be complemented with strict enforcement, traffic police training, enhanced provisions like declaring drunken driving a "criminal" offence and a strong political will on the part of lawmakers who could become "ambassadors" of road safety.
With an average of 375 deaths per day (over 135,000 a year) due to road accidents in India, "we need to adopt road safety as a national cause. The prime minister must take the onus the way he is doing for Swachch Bharat or Ganga cleaning," road safety campaigner Prince Singhal, the founder of Campaign Against Drunken Driving, told IANS.
Singhal also urged MPs, legislators and village council heads to become "ambassadors" of road safety. "They must channelise government funds like MPLADS (for development in their respective constituencies) towards devising and executing programmes geared to ensure road safety," he said.
In a bid to crack down on rampant driving violation and growing number of traffic related deaths and casualties, the Narendra Modi government has sought to drastically up the penalties for traffic violations.
According to an official statement, the Ministry of Road Transport and Highways is consulting stakeholders before legalising the hiked penalties that are proposed in the fourth draft and reflect a substantial increase in the quantum of punishment that is way above those provided in the outdated Motor Vehicles Act, 1988.
For instance, as per the draft Road Transport and Safety Bill, available on the ministry's website, first-time offenders of impaired driving may have to cough up Rs.10,000 and face a possible six-month suspension of licence if their blood alcohol content (BAC) is found more than 20.0 mg per 100 ml of blood.
Subsequent incidents will attract a fine of Rs.20,000 in conjunction with up to six months' imprisonment and one year of licence suspension.
A ticket for exceeding the posted limit by five kmph will see a 40 percent jump from the existing fine of Rs.400 in the 27-year-old act.
So, how does the proposed increase in fines stack up with the rest of the world? Take that for jumping a red light. If it is going to be Rs.1,500 in India, it's ($229)(Rs.14,300) in some cities in Canada and $145 (Rs.9,125) in, say, Paris.
Institute of Road Traffic Education (IRTE) president Rohit Baluja exuded little confidence in such penalties without professional training of the traffic police and scientific road engineering because "over 30 percent of accidents happen due to road failure".
A National Crime Records Bureau report says 34.3 percent - or 137,423 - of accidental deaths in 2013 happened due to road accidents.
"Fines should be increased. But they are meaningless unless the road environment, including its geometry and traffic engineering, is also improved according to the law," Baluja told IANS.
He said road safety, however, does not always suffer due to untrained drivers but often because of poorly defined lanes and inappropriate road signage that confuse pedestrians, cyclists and motorists alike.
The IRTE president also called for improving road engineering standards, regular road repairs and scientific traffic management that will serve the purpose only when traffic constables implementing the law are also well trained.
"There is no training of traffic police here. While issuing challans (tickets), they may not even have full knowledge of traffic rules and violations. They need to be trained to understand what can be categorized as violation," Baluja explained, based on his experience as a trainer for Indian Police Service officers as well as traffic policemen.
"They often overlook the real reason that caused the violation. For instance, what's the fault of a driver who is unable to see the red light at an intersection because the traffic signal was hiding behind a tree?" he questioned.
Echoing this sentiment, International Road Federation chairman K.K. Kapila said efficient enforcement of legislation is the "single" key to ensure safe roads that must also be complemented with advanced technology like cities in advanced countries.
Kapila told IANS that a demonstration stretch between India Gate and the Badarpur border in the national capital is being worked out as an experiment to this effect.
The stretch will have several CCTV cameras and other gadgets needed for an intelligent technology system that will capture breach of lane driving, over-speeding, and other traffic violations, Kapila said.