Nabam Tuki criticized
Itanagar: The People's Party of Arunachal (PPA) today termed Chief Minister Nabam Tuki's Independence Day speech "a mockery" of the actual law and order situation in the state, particularly in the capital."The people have already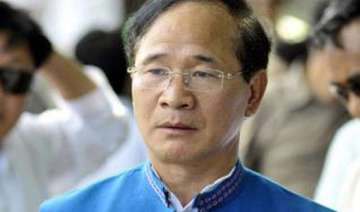 PTI
August 19, 2013 12:03 IST
Itanagar:
The People's Party of Arunachal (PPA) today termed Chief Minister Nabam Tuki's Independence Day speech "a mockery" of the actual law and order situation in the state, particularly in the capital.
"The people have already lost confidence in the state government's ability to provide security," the party said in a statement.
PPA claimed while crimes were being committed without fear, criminals were easily bailed out because of political intervention.
Repeated incidences of jailbreak were the best example of the government's inefficiency, the party alleged.
The PPA also criticized the government over other allegations, such as for not devolving powers to the panchayat and municipal bodies as required.