Two cops killed in firing in Telangana
 Hyderabad:Two policemen were today killed and as many injured after an unidentified person opened fire on them while they were questioning passengers during checking of vehicles in Nalgonda district of Telangana in the wee hours.The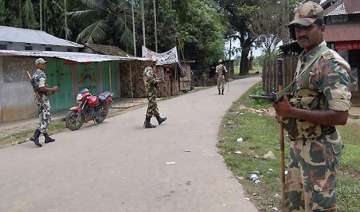 PTI
April 02, 2015 11:02 IST
 Hyderabad:Two policemen were today killed and as many injured after an unidentified person opened fire on them while they were questioning passengers during checking of vehicles in Nalgonda district of Telangana in the wee hours.
The incident occurred at around 12.30 AM at a bus stand in Suryapet town when a police team, led by circle inspector (CI) Moghalaiah, was carrying out checking of vehicles, they said.
"On suspicion, police asked two bus passengers to get down and started questioning them, when one of them suddenly attacked the cops and started firing on them resulting in on the spot death of constable Lingaiah and Home Guared Mahesh.  "The person continued firing and CI Moghalaiah and one home guard Kishore were injured in the firing," Deputy Superintendent of Police, Suryapet (Sub-division), Abdul Rashid told PTI over phone.
He said both of them fled the scene immediately after the incident. Police suspect the weapon used in the firing could be a country-made firearm.
Asked whether the police retaliated, he said they did not get any chance. "It was a close range firing and the police team did not get much time (to retaliate)....It was a matter of few seconds."
The circle inspector suffered two bullet injuries in the incident along with the home guard, and both of them were rushed to a hospital in Hyderabad.
Special teams have been formed to trace the culprits, the officer said, adding they suspect the duo hailed from Odisha as per the ID cards they showed to the police team.  He, however, said the cards could be fake.