Two Eminent Kolkata Doctors Arrested For AMRI Hospital Fire
Kolkata, Jan 27 : Two eminent doctors attached with the AMRI Hospital in different capacities were arrested today in connection with the country's worst-ever hospital fire that claimed 93 lives on December 9 last.Both the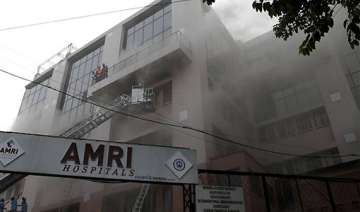 PTI
January 27, 2012 13:23 IST
Kolkata, Jan 27 : Two eminent doctors attached with the AMRI Hospital in different capacities were arrested today in connection with the country's worst-ever hospital fire that claimed 93 lives on December 9 last.

Both the doctors - Mani Chhetri and Pranab Dasgupta - who were earlier questioned by police, were arrested from their residences here this morning, Joint Commissioner of Police Damayanti Sen said.

Chhetri and Dasgupta were also board members of the hospital.With them, 13 persons have so far been arrested in connection with the hospital fire in which 90 patients and three nurses died.

Three board members are absconding.The absconders are three board members Aditya Agarwal, Preeti Surekha and Rahul Todi.Those arrested are seven board members S K Todi, R S Goenka, Ravi Todi, Manish Goenka, Prasanta Goenka, Dayananda Agarwal and R S Agarwal.

Senior Vice-president S Upadhyay and Administrative Officer Sanjib Pal were arrested on December 13. Vice-president Pritha Banerjee and a staff member Sajid Hussain were held on January 23.

The licence of the hospital was cancelled on the day of the fire incident.AMRI Hospital is jointly promoted by R S Goenka-led Emami Group and S K Todi-led Shrachi Group of companies with a minor shareholding of the West Bengal government.