Two fresh cases of swine flu reported in national capital
New Delhi: Two fresh cases of swine flu were reported in the national capital today, taking the figure to 5 till now this year."A 12-year old girl and 31-year-old woman, both residents of Delhi, have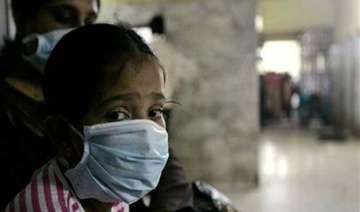 PTI
January 03, 2015 20:30 IST
New Delhi: Two fresh cases of swine flu were reported in the national capital today, taking the figure to 5 till now this year.
"A 12-year old girl and 31-year-old woman, both residents of Delhi, have tested positive for H1N1 (swine flu) virus, according to an official from the health department.  The samples of 12-year-old were tested at the National Centre for Disease Control (NCDC) and confirmed swine-flu.  Yesterday, two cases of swine flue were reported which included two women, aged 35 and 53, residents of C R Park and Chattarpur respectively.
With five cases reported this year, the total figure is 43 since last year.
Union Health Minister J P Nadda, who reviewed the situation yesterday, said that that there is nothing to panic.  "I am regularly monitoring this subject and from time to time talking to the Health secretary. We have also reviewed our preparedness.
"Our hospitals and doctors are ready to deal with the situation. At the same time, I would like to say that there is no need to panic," Nadda had said.
Indian Medical Association (IMA) has urged people to get swine-flu testing done only from a Govt accredited lab.  Also, IMA stated that card rapid test is not reliable and should not be used to diagnose H1N1 cases.  "Only RRT-PCR test is reliable and should be used to diagnose H1N1.
The IMA has also issued a set of guidelines to tackle swine flu and urged citizens not to neglect minor cases of fever with breathlessness.
Swine flu can have symptoms like fever, coryza, cough, sore throat and body aches. It may last for one-two weeks, said IMA. However, occasionally, nausea, vomiting, diarrhoea and rash may also occur.
The government has designated both government and private labs to test the presence of virus, it said.  A control room - 23061469 --has been set up for any kind of information on swine flu.