Two labourers Buried Alive In Bore-Well
Bhimnagar (UP), Apr 2: Two workers were buried alive when earth caved-in while drilling a bore-well in Sonakpur village of Bhimnagar district of Uttar Pradesh. The two labourers, Naubat and Damodar, were relatives (uncle and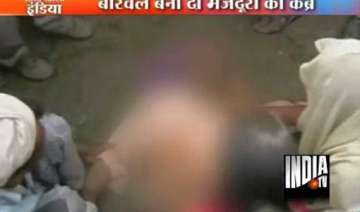 India TV News Desk
April 02, 2012 12:21 IST
Bhimnagar (UP), Apr 2:
Two workers were buried alive when earth caved-in while drilling a bore-well in Sonakpur village of Bhimnagar district of Uttar Pradesh.
The two labourers, Naubat and Damodar, were relatives (uncle and nephew) and used to work as daily wagers.  They were drilling a bore well in Sonakpur village.
The earth suddenly caved-in when they had reached 30 feet depth.
The two men were buried alive. On getting information, the administration reached the spot with JCB machine.
After four hours of drilling, they managed to find the bodies of the two workers but they were already dead by that time.
Administration has assured action against the culprits responsible for this tragic incident.