Two leopards dead in Maharashtra
Kolhapur/Chandrapur (Maharashtra): In two separate incidents on New Year Day, two leopards died in Kolhapur and Chandrapur of Maharashtra.A leopard sneaked into a residential colony in Kolhapur, after which police and wildlife officials were called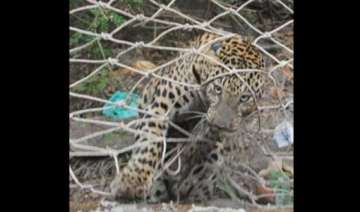 India TV News Desk
January 01, 2015 20:49 IST
Kolhapur/Chandrapur (Maharashtra): In two separate incidents on New Year Day, two leopards died in Kolhapur and Chandrapur of Maharashtra.
A leopard sneaked into a residential colony in Kolhapur, after which police and wildlife officials were called in. The leopard  hid inside a garage, but while trying to capture him for rescue, the leopard lost his life.
The other incident took place on Chandrapur-Nagpur national highway. A leopard was found crushed by a vehicle on the highway. It was a two year old female leopard.