Two villagers killed by Maoists in Odisha
Bhubaneswar: At least two villagers were killed by Maoists in Odisha's Malkangiri district, police said Monday.A group of rebels Sunday night raided Keriaguda village and dragged two tribal residents out of their homes and beat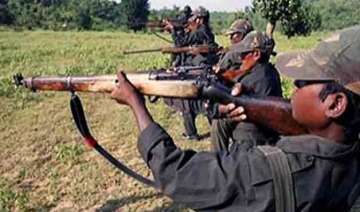 IANS
January 05, 2015 12:08 IST
Bhubaneswar: At least two villagers were killed by Maoists in Odisha's Malkangiri district, police said Monday.
A group of rebels Sunday night raided Keriaguda village and dragged two tribal residents out of their homes and beat them to death, suspecting them to be police informers, District Superintendent of Police Mitrabhanu Mohapatra told IANS.
Anti-Maoist operations have been intensified in the district after the killings.
In Panasput, also in Malkangiri district, security personnel exchanged fire with a group of armed rebels.
The clash was continuing till reports last came in, Mohapatra said.
The clash occurred after security forces came under heavy fire from the rebels during anti-Maoist operations, he added.
Malkangiri, over 618 km from Bhubaneswar, is considered to be a Maoist stronghold.